Location
Geographical Location
Kushiro is located at latitude 42'59' N and longitude 144'24' E.
Most of Japan is part of the temperate zone and has four distinct seasons.
However, since Japan stretches about 3,000 kilometers from north to south, there are exceptions to the rule. For example, Okinawa belongs to the subtropical zone and Kushiro is situated to the north of the temperate zone.
Location in Japan:Regional and Transportation Information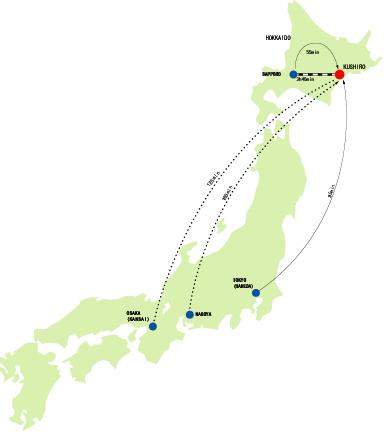 Postal Address
Kushiro Public University of Economics
Ashino 4-1-1, Kushiro-shi, Hokkaido Japan,
085-8585
Fax:+81-154-37-3287
Tel:+81-154-37-3211

Directions to the University from Kushiro JR Station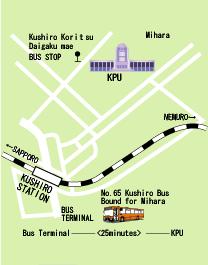 The bus from Kushiro Airport goes to Kushiro JR Station, which is adjacent to the public bus terminal.
Look for the bus stop for the No.65 bus.
The bus announces the stops by recorded message.
Get off the bus at the stop for Kushiro Kouritsu Daigaku-mae (which means "in front of Kushiro Public University.")
The University is directly across the main road from the bus stop.
Contact Us
Homepage:URL:http://www.kushiro-pu.ac.jp/
address: Kushiro Public University of Economics Ashino 4-1-1, Kushiro-shi, Hokkaido Japan, 085-8585
TEL: +81-154-37-3211
FAX: +81-154-37-3287
E-mail:info@kushiro-pu.ac.jp