Philosophy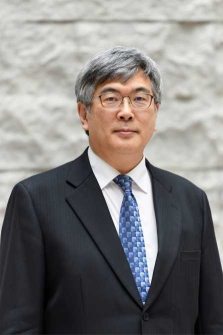 SHOJI Yukihiko,President
I am very pleased to be able to tell you about Kushiro Public University of Economics (KPU).
KPU was established in 1987 by local public entities in the Kushiro area who were eager to enhance the district's profile by having a community-oriented University for its citizens and visitors.
The University has very well-qualified faculty specialising in economics and business, as well as a comprehensive liberal arts department. lt therefore not only attracts students from the local community but from many other areas in Japan, including Tohoku, Osaka, and Kyushu.
Besides its well-structured academic programme which offers two bachelor level degrees, Kushiro Public University provides a first-class learning environment, in contrast to many Japanese universities which are situated in large urban areas.
Kushiro is a medium-sized city in south-eastern Hokkaido. lt has a major fishing and cargo port with large expanses of unspoiled beaches. Kushiro is also known for its pulp and paper production, and its food industry.
Despite being an industrial city, Kushiro is surrounded on three sides by broad coastal plains and world-famous marshlands which are home to some 200 species of birds and animals, and it is also the only breeding ground in Hokkaido for the Japanese red-crested crane, the Tancho. The hinterland also supports a considerable agricultural industry for which Hokkaido is well known.
In addition, because of its northern location, Kushiro shares many similarities with northern nations and areas like Canada, Siberia, Finland, Iceland, and Scandinavia. Its ice-free port is the closest to Canada and the U.S.on the Asian seaboard.
Foreign students can expect a friendly, hospitable living and learning environment from both the City of Kushiro and from the students and faculty of KPU.
General Philosophy
We express the general philosophy on which Kushiro Public University of Economics (KPU) was founded as the following three basic ideas, i.e.:
To meet responsibly the educational and community needs at the University level for Kushiro City and its surrounding municipalities,
To encourage the students of KPU to be international in their outlook,
To develop a curriculum which will provide a balance between theory and practice for the students of KPU.